Mechelec' Fan Coil Units are of two types : the horizontal discharge type suitable for ceiling- suspension and the vertical discharge type suitable for Floor / Wall Mounting.
' Fan coil units consists of forward curved Aluminium Blower, 3 speed Fan Motor, Double skin drain pan and very good quailty of cooling coil.
The air quality is based on Fan Coil Unit connected by a 600 mm long duct to a supply air grille with free area equal to that of the discharge collar return air grille with 12 mm aluminium filter.
Specifications and features are subject to change without notice. Dimensions are approx.
FAN COILS UNITS (Exposed - Vertical Type)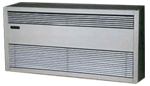 FAN COILS UNITS (Exposed - Vertical Type)
Model
Capacity
Face Area
Coil Length
Coil Height
Coil Rows
Coil Fins
Coil Connection
SAE Flare
Rated Air
Quantity (CFM)
Motor HP
Dimensions (mm)
Sq. Ft.
inch
inch
Deep
per inch
W
D
H
MFCU-1
1 Ton
1.666
24
10
3
12-13
5/8"
400
1/12
1100
260
500
MFCU-1.5
1.5 Ton
2.013
29
10
3
12-13
5/8"
600
1/12
1100
285
540
MFCU-2
2.0 Ton
2.75
36
11
3
12-13
5/8"
800
1/12
1300
285
620
MFCU-2.5
2.5 Ton
3.5
36
14
3
12-13
5/8"
1000
1/12
1300
325
670
FAN COIL UNITS (Horizontal Celing Supend ed Type)

FAN COIL UNITS (Horizontal Type)
Model
Capacity
Face Area
Coil Length
Coil Height
Coil Rows
Coil Fins
Coil Connection
SAE Flare
Rated Air
Quantity (CFM)
Motor HP
Dimensions (mm)
Sq. Ft.
inch
inch
Deep
per inch
W
D
H
MFCU-1
1 Ton
1.65
28
8.5
3
12-13
5/8"
400
1/12
1100
580
320
MFCU-1.5
1.5 Ton
2.0
34
8.5
3
12-13
5/8"
600
1/12
1250
580
320
MFCU-2
2.0 Ton
2.77
38
10.5"
3
12-13
5/8
800
1/12
1350
580
395